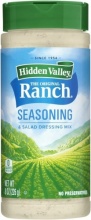 Hidden Valley Original Ranch Salad Dressing & Seasoning Mix 8 Ounces£16.50 £15.50
Hidden Valley Original Ranch Salad Dressing & Seasoning Mix 8 Ounces
VERSATILE RANCH SEASONING - Pairs great with milk and mayo for a dipping sauce or seasoning for just about anything. It's a kitchen must-have!
HANDY SPICES FOR COOKING - Perfect for use in salad recipes and nacho cheese sauce, Hidden Valley The Original, is an all-in-one seasoning. It comes in a shaker bottle, so it's very convenient to use.
DELICIOUS POPCORN FLAVOURING - Fantastic mix to sprinkle on pasta, chicken, chips, steamed vegetable, and popcorn! Don't get caught without this on a movie night at home!
ESSENTIAL MIXED SPICE - Hidden Valley Salad Dressing is an all-around seasoning for all kinds of savoury recipes. Transform your ordinary dishes with this secret ingredient.
POPULAR AMERICAN FOOD - If you're craving American foods, you have to get one of these! It pairs well with all-time favourite snacks—fries, burger, bacon bits, and more! Place an order today!